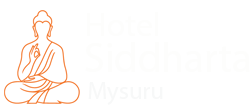 Book your stay at discounted price! Apply Promo Code
"SID10"
& Get instant discount. Take advantage of our special rates
Welcome to Hotel Siddharta
If you happen to be in Mysuru and are looking for a place to stay. Don't look too far. Hotel Siddharta always rolls out the red carpet for you.
HOTEL SIDDHARTA, centrally located in the heritage city, has been a name to reckon with in the hospitality business since it was opened in 1982
Hotel Siddharta is ideal for both business travelers and holidays-makers and serves as an excellent base to explore the cultural wonders of Mysuru.
Read more